Directed By:
Rafael Portillo
Manuel San Fernando

Not Rated
Genre: Horror
Format Used: DVD
Contains: Graphic Violence
Country: Mexico
Dubbed

Also Known As:
Aztec Mummy Vs. the Human Robot
Robot humano, El
Momia azteca contra el robot humano, La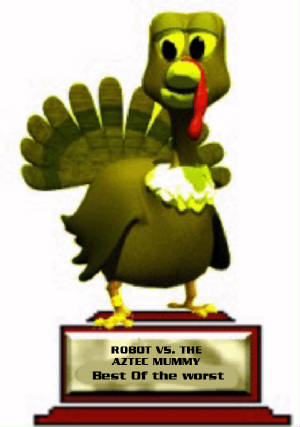 ZEDD:
This is the last of the Aztec Mummy trilogy and in my opinion the best. The first two has the Aztec Mummy protecting the treasure of the Aztec from a vicous criminal. But also he was fighting a archeologist. This time the criminal genius used a corpse and built a robot body around it, he called the human robot which he controled by remote control.

He uses a the Professor's girlfriend to find Poppoca in order to destroy him with the robot, he uses her because there's some kind of ancient connection to him. It is entertaining, the dubbing and the voice over acting is very well done. I love the Aztec Mummy design, Voltron complained the robot didn't have knee joints, that was his big complaint about the movie. But I think it's one of the BEST OF THE WORST and I give it the award for BEST OF THE WORST, you should all check it out, it's ROBOT VS. THE AZTEC MUMMY.